The Rise and Rise of Mr. Baseball
I just ended Mr. Baseball's career.
The boy was roughhousing with his friends, as boys do, and it was all fun and games until he landed a shot to his friend's eye. The boy's heart sank because his friend wasn't just any teenager. His friend was Bobby Valentine. In Stamford, Connecticut, Bobby Valentine was everything.
In the 1960s, Stamford was beginning its transition from a working class burg of factories and docks into a gentrified bedroom community of glittering corporate outposts. The industrial waterfront would soon be replaced by a series of glass towers, each new one a carbon copy of the last. Those who remembered Stamford's lunchpail past could feel there was no room for them in this new version of their hometown. They didn't have much to hold onto except for Bobby Valentine, world-class competitor.
Valentine's skill as a running back garnered comparisons to O.J. Simpson from the man who'd coached Simpson at USC. He was so good at basketball that for years after he'd left, local coaches could chide a showboating youngster by yelling, Who do you think you are, Bobby Valentine? He excelled at more esoteric endeavors too, winning pancake eating contests and ballroom dancing competitions with equal gusto. (One day, the men paid to cover his teams would have a field day with these little biographic details.) If an event ended with crowning a winner, Bobby Valentine would find some way to be that winner.
While Valentine loved to win at anything, baseball was his one true love. The lights outside his house were covered in baseball-shaped globes, lovingly painted by a carpenter father who shared Stamford's belief that Bobby Valentine could do no wrong. He was son to them all, a local treasure to be cherished and protected. That's why, when a boy landed an accidental elbow to Bobby Valentine's eye, his first fear was not that his friend would hit him back, but that he'd destroyed the hope of an entire city.
Of course, Bobby Valentine shrugged off this blow. Nothing could stop Bobby Valentine. If your entire hometown called you Mr. Baseball before you could vote or buy a beer or join the army, you would believe you were bulletproof, too. The problems would only come when you left that town and entered a world that didn't see you glowing with the same angelic light. That world might never make any sense to you at all. You might never make any sense to that world.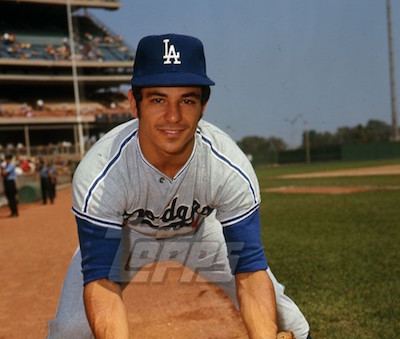 Bobby Valentine became the Los Angeles Dodgers' first-round draft choice in 1968. His athletic range was matched only by his relentless enthusiasm and his inability to dial down a high-octane personality. His rookie league manager, a baseball lifer named Tommy Lasorda who would become a mentor and tireless defender of his former charge, described him as "insufferable, but in a good way." The young man had the talent and character to be a team captain one day, said Al Campanis, the Dodgers general manager who had discovered Sandy Koufax. Valentine hit his way through the Dodger organization with breakneck speed, the only speed he knew, inspiring the big league club to call him up during the 1969 season.
Then Valentine was forced to slow down for the first time in his life by Walter Alston, human speed bump. Alston had managed the Dodgers since they called Flatbush home and had no patience for the impatient likes of Bobby Valentine. Each year, Alston was offered a one-year contract by the Dodgers' parsimonious owner, Walter O'Malley. Each year, Alston accepted the contract with Spartan stoicism. If the manager could be made to wait in this humiliating manner, so could a brash youngster. Alston used Valentine all over the field, treating him more as a utility player than a budding star. A wiser person might have shown deference to the old man. Mr. Baseball openly lobbied for Tommy Lasorda to take Alston's place.
A wiser person also wouldn't have risked his career by dabbling in intramural football in the offseason. Valentine did, and the knee injury he sustained while engaged in this risky hobby following the 1971 season limited his range at shortstop the subsequent year. He spent some time in the outfield in 1972 and batted a respectable .274 in 112 games, but the Dodgers had not chosen him as their first-round pick hoping for mere respectability. Continued clashes with Alston all but forced the Dodgers to trade him to the Angels at year's end.
On May 17, 1973, while patrolling center field at Anaheim Stadium, Valentine pursued a long fly—at full speed, naturally. As the ball sailed over the fence, he crashed into it and caught his spikes in a chain link fence. The speed of the pursuit, combined with the unfortunate placement of his cleats, snapped his right leg in two places. He looked up after his crash to see bone poking through the skin.
This compound fracture would have been a brutal injury from which to recover even if correctly treated, and his was not. Valentine's break was set improperly, causing his right leg to heal slightly shorter than the left, the source of chronic back pain forever after. His legs had once powered him to break state rushing records. Now they were unsure of themselves. He rushed to work his way back to the field but those ungainly legs betrayed him. A gear was missing in this new body of his. He would hit what should have been a sure single and get thrown out after he tripped on his way to first base.
Valentine's days as an everyday major league player were over, though he scraped by for another six seasons as a utility man through sheer guile. He came to New York midsummer of 1977, part of the package that sent slugger Dave Kingman from Gotham to San Diego at the trade deadline. By this point, Valentine's stock had dropped so much that his appearance on the Met roster drew little notice. It didn't help that his arrival coincided with the soul-crushing trade of Tom Seaver to Cincinnati.
For a season and a half in New York, Valentine performed ably enough and was assured by his manager during spring training of 1979 that he would make the opening day roster. Then, with a week left in Florida, the team released him. The same manager who'd assured him a roster spot now said the Mets couldn't keep him on the team at the expense of younger players with more potential. He also told him that the Mets—the go-nowhere Mets of 1979, who would be all but mathematically eliminated the moment they took the field in April—couldn't take a chance on his inferior defense at second base. He'd heard none of these discouraging words before.
Incensed, Valentine called a press conference to protest such unfair treatment. Being released so close to the end of the spring training meant it would be almost impossible to catch on with any other team. No professional courtesy, Valentine wailed. The man who delivered the bad news did his best to be civil, but the truth was the truth. The skipper had to make some tough decisions that spring, such as cutting Met-in-perpetuity Ed Kranepool. It wasn't personal, the skipper insisted, a fact that was of little comfort to Valentine. Once assured a roster spot and steady paycheck, all Valentine had left was a shrug of the shoulders and best wishes from his now-former manager, Joe Torre.
Valentine muddled through 62 more games with the Seattle Mariners before hanging up his spikes at the ripe old age of 29. Then he returned to Stamford to open a sports bar that bore his name. He would have been wise to situate his watering hole north of the noisy, smog-choked corridor of I-95, close to the pied à terres for the Wall Street crowd. Instead, Valentine opened his bar south of the interstate, where the town remained a little grungy and his name could bring in crowds for weekday lunches and weekend games. On that side of town, crowds would greet him as Mr. Baseball, forever and ever.
On the walls of his bar Valentine hung his prized collection of baseball memorabilia. Pictures of Willie, Mickey, and the Duke, autographed game-worn jerseys, bats in glass sarcophagi. Alongside them he hung pictures of the horror of that night in Anaheim strobed one frame at a time. You see him approaching the wall, getting closer with each blink. You can tell he won't be able to stop himself. His momentum is too great. A terrible finish is in store. And then you see it. You see Mr. Baseball sprawled out on the turf in agony, his leg shattered, his old life already over.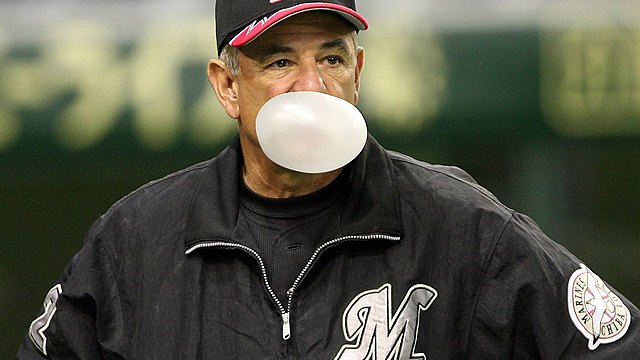 A year as a saloon keeper was enough to convince Bobby Valentine he was not done with baseball. Desperate for any path back into the sport, he accepted a minor league instructional assignment with the Mets in 1981 and once again worked his way to the major leagues with brutal efficiency. Valentine was added to the big league club's coaching staff for the 1983 season, alongside players he'd worked with down on the farm who were beginning to resurrect the Mets from the status of perennial punching bag.
In 1985, Tom Grieve, the Texas Rangers' general manager and a former teammate, tapped Valentine to be his team's new skipper. Under Valentine's stewardship the moribund franchise experienced a rare brush with contention, finishing second in the American League West in 1986, the team's best showing ever. But no matter where the Rangers were in the standings in any given season, the spotlight would always focus on Valentine. Exactly how Valentine wanted it, said his detractors, a vocal and growing group.
Valentine refused to keep still in the dugout, shifting from one bad leg to the other, pacing, shaking his head, throwing up his hands. He even bit his nails with theatrical flourish. He would often position himself on the dugout railing and stay there for innings on end to berate opponents and umpires, thus earning himself the unflattering nickname Top Step. He once screamed at Royals pitcher Joe Beckwith so mercilessly that the unnerved righty lobbed several wild pitches. Beckwith's skipper, Dick Howser, was a patient soul who once weathered an entire season as Yankee manager under withering public criticism from George Steinbrenner without ever uttering a peep in protest, but Valentine's antics tested even his resolve. The man who'd shown the forbearance of Job in the Bronx gave his pitchers leave to throw at Valentine's head.
Bobby Valentine was more popular with his own team, but not by much. The Rangers' ace Kevin Brown grumbled that when Valentine's players went through slumps the manager shut them out, fearing their woeful performances could infect others. He could have benefited from some friends in the press but showed zero ability to cultivate such alliances and even less interest. Simple queries from the beat writers provoked answers that ranged from dismissive to combative, delivered in a voice that came from the back of the throat, guttural, mocking.
Such sins could have been excused if Valentine's teams succeeded on the field, but the Rangers' runner-up finish in 1986 proved his high watermark in Texas. These Rangers had no shortage of talent with players such as Brown, slugger Juan Gonzalez, catcher Ivan "Pudge" Rodriguez, and the ageless Nolan Ryan. That such pieces failed to gel into a winning combination was deemed the manager's fault, and he'd accrued precious few allies who would argue otherwise on his behalf. Valentine got the axe in July 1992 with the bad news delivered at a dour press conference led by Rangers team president George W. Bush.
Valentine returned to the Met organization to manage their triple-A affiliate before he received an offer befitting his restless spirit and boundless ego: Become the first manager recruited directly from America to lead a team in the Japanese major leagues (Nippon Professional Baseball, or NPB). NPB had employed a handful of American-born managers in its history but most of these had transitioned from playing in the league. None had lasted long in their posts. The offer came from the Chiba Lotte Marines, a down-on-its-luck franchise willing to try anything to win or at least gain some attention. Compared to its American counterpart, NPB had very strict notions when it came to training and decorum, areas not thought to be Valentine's strong suits. The cultural differences and the Marines' lowly status would have dissuaded most other men. Valentine jumped at the challenge, signing up as the Marines' manager for the 1995 season.
That challenge came at an unhappy time for Japan. In 1995 the nation was sucker punched by a devastating earthquake in Kobe and deadly sarin attacks in the Tokyo subway system, all while the economy remained in the doldrums that had prevailed since the beginning of the decade. Looking for any ray of sunshine, Japan fixated on Hideo Nomo and his historic stateside "rookie" campaign. After chafing under NPB's restrictive contracts and rigorous training demands, the star pitcher for the Kinetsu Buffaloes "retired" from the league so he could sign with the Dodgers, making him the first Japanese-born to play in the American major leagues in almost 30 years. Compared to most major league pitchers, Nomo's delivery to the plate was slow and halting, as he pivoted until his back was to the batter before completing his windup. This pitching style was fairly common in Japan, but American hitters had rarely seen the likes of it before. Nomo's delivery baffled hitters and made him an immediate sensation on both sides of the Pacific. His American success became a source of great pride to a baseball-obsessed nation starved for any bit of good news, his every start documented religiously by the Japanese media.
As exciting as all this was to the average Japanese citizen, this turn of events terrified the Japanese baseball establishment. Nomo had figured out a way to beat the system and somehow became an even bigger star in his native land by doing so. Even worse, Nomo-Mania inspired more than a few MLB teams to ship scouts overseas in hopes of finding the next Japanese superstar. Though Valentine was new to Japanese baseball himself, he became the go-to quote for American reporters and scouts hoping to make sense of it all. "The top 20 pitchers here are all major league standard or above," Valentine told the New York Times. While he cautioned Japanese hitters would need some time to acquire the power expected from the typical MLB player, he also believed a young outfielder named Ichiro Suzuki might be able to make the leap to America. He made these bold pronouncements when he had been on the job all of three months.
This assumption of expertise by the newcomer grated on his new bosses. The team officials who'd sought out Valentine developed a case of buyer's remorse and set about undermining their new manager at every turn. During spring training Valentine relied on his interpreter and head coach to tutor him on NPB's players and the league's folkways. Both men were dismissed by management three games into the regular season with little explanation. Marines General Manager Tatsuro Hirooka ordered Valentine to read up on "the book" of NPB players and their stats. Said book was only available in Japanese, a language Valentine could not yet speak or read fluently. Hirooka told his manager to study harder. Valentine was promised the autonomy to both make roster moves and fire coaches but soon found he lacked any such power. He was given a verbal contract for three years, then handed a paper contract for two.
Valentine being Valentine, he saw this treatment not as a reason to show more deference but to exercise more defiance. Tradition in Japanese baseball subjects its players to arduous practice schedules, but Valentine challenged these ideas by cutting down on rigorous individual drills, emphasizing team fielding and batting practice instead. Lack of discipline was blamed when the Marines struggled well into the season, but once the team began to win, fans became energized for the first time in ages. Valentine piloted the Marines to a second-place finish and their best record in 11 years. In the process, he transformed himself from an outsider into a fan favorite.
And yet, rumors of Valentine's imminent dismissal swirled as soon as the season ended. The official line from the Marines' front office pointed to irreconcilable differences on the subject of training. Hirooka contended the Marines finished second despite Valentine, not because of him, while an assistant general manager said Valentine "was judged deficient in baseball ability." Grateful for what Valentine had done for the team, fans gathered 24,000 signatures for a petition demanding his return. He was fired anyway.
Valentine returned to the Mets' minor league system for a third time, convinced this was a temporary setback. As far as he could see, he was still Mr. Baseball. It was only a matter of time before the Mets would see it that way too.