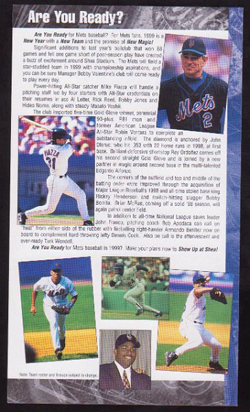 Update! Progress on Yells For Ourselves is coming along, slowly but surely. I plan to make some more concrete updates about its state and release date within the next month. Currently, I am concentrating on the aesthetic aspects of the project. That's where you come in. Yes, you.
Because this is a book about the 1999-2000 Mets, I would like to emulate the "look" of that era in the book's overall design. I say this fully cognizant of the fact that when it comes to design, this time in our shared history hasn't yet crossed over into the sphere of Retro and is still regarded as Olde. I have plenty of video of games from these years, and watching the commercials that ran during them is an exercise in cringe. Tech ads in particular are a bit hard to watch. I may even post some of these ads on this site, both for my own amusement and because I am forbidden from posting any in-game footage, so the ads are as close as we can get.
Still, I think that I can take the Mets-related design of this era and turn it into something both evocative and not eye-straining. The banner you see at the top of this site, for instance, is inspired by the style used in Mets' promotional items from 1999. You may have seen it spelling out that year's slogan, ARE YOU READY (no question mark, for some reason).
Unfortunately, I have a paucity of promotional material from this era at my disposal, and my attempts to find more through the usual channels have been largely unsuccessful. To give you an idea of how hard it is to track down this stuff, my biggest break came a few months ago when I randomly found a 1999 season fridge magnet at my wife's grandmother's house. The fact that this era doesn't yet seem to attract mass nostalgia is a big reason why I'm writing this book. But I know there must be people out there who have old programs and stadium giveaways and whatnots in their collections. That's where you come in.
If any of you folks out there have programs, yearbooks, or any other promotional material from 1999 or 2000, I'd like to see it. You don't need to physically send me anything, and I don't want to use it in the book (or rather, I don't think I could afford to license it for the book). Just snap a pic with your camera phone and send it my way. If it's a program, a page or two will suffice; I'm particularly interested in seeing what player features and scorecards looked like back then. This will all help shape the look, feel, and spirit of this ebook, and you shall be thanked profusely in the book's acknowledgements, if that does anything for ya.
If you do have any pics of this material you'd like to share, tweet at me. If it's something super awesome you don't want to share with the whole world for some reason, DM me and we'll figure something out.
Onward and upward!